Serving Nebraska & Colorado for Over 100 Years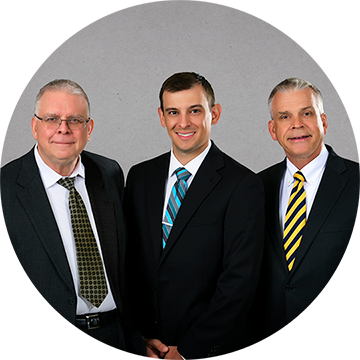 Our owners, Todd, Jessop & Chad Adams
Adams Insurance Advisors is a 4th generation family-owned independent insurance agency serving Nebraska and Colorado.
History of Adams Insurance Advisors
In 1916, G.D. Adams and E.C. Wolf opened Lemoyne State Bank (our sister company, Adams Bank & Trust) and offered insurance products and tax services in the bank. In 1934, the bank was moved to Brule, due to the construction of Lake McConaughy.
G.D.'s son, Melvin H. Adams, Sr, started Melvin Adams Agency in 1934 in Brule. Melvin Sr. was joined by his son, Mel Adams, Jr. in 1960. The agency opened an office in Ogallala in 1962 and named the agency Western Insurors of Nebraska. The agency saw continued growth and in the late 1980's, Mel Jr.'s sons, Todd and Chad Adams joined the family business. Additional agency offices were opened in Imperial, Madrid, Grant, and Sutherland.
Western Insurors purchased the Platte Valley Agency of Ogallala in 1998 and opened an office in North Platte, Nebraska from scratch also in 1998. With the continued growth of the agency, Deb Schilz was named Agency Manager in 1999 along with purchasing the Indianola Agency in Indianola, NE. The following year, Panhandle Insurance Management of Bayard, NE was acquired. The agency continued its growth by adding the Sam Thomas Agency, Inc. in North Platte, and Thomas Agency in Sutherland in 2005. Chad's son, Jessop Adams joined the family business in 2015.
Western Insurors announced their expansion into Colorado in the fall of 2018. As part of their expansion into Colorado, the agency was renamed Adams Insurance Advisors in 2019.
AIA's corporate office is located in Ogallala, Nebraska, with offices in North Platte, Sutherland, and Grant, and Longmont, Colorado. We look forward to continued growth and opportunity as we enter our 5th generation of leadership.
We will be leaders in our marketplace by providing innovative solutions, trusted relationships, and protection for our ever-changing client needs while engaging in and serving our communities.
Why Work with an Independent Insurance Agency?
More Flexibility
Adams Insurance Advisors is an independent insurance agency. Unlike a captive (or direct) insurance company who only offers its proprietary insurance products, independent insurance agents can access and sell various insurance products from multiple carriers. This independence also allows us to provide unbiased and objective advice regarding your insurance needs—meaning, if one carrier's products are the right fit for you, we can provide you with options that are a better fit from other carriers.
Better Service
Adams Insurance Advisors prides itself on getting to know our customers and building strong relationships. No matter which insurance company provides your policy, your primary contact will be with one of our agents and/or account manager. You won't need to worry about getting lost in a call center or never dealing with the same person twice. Once you have purchased a policy with us, we are here to help you proactively manage your policy, file claims, and guide you through renewals and policy changes.
A common misconception about working with an independent insurance agent is that customers have to pay us for our services. There are no upfront costs or additional costs applied to our customers. While insurance companies pay us, our focus is on providing the best service and insurance options for our customers.
Keep up with the happenings at Adams Insurance Advisors.
Resources to help you navigate the ins and outs of insurance, and help you save time and money.