AIA's Young Agent of the Year Award Winner
Adams Insurance Advisors celebrates Jon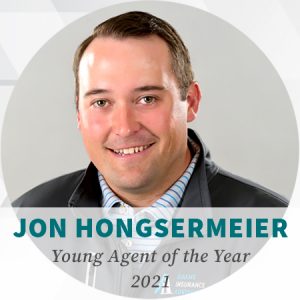 Hongsermeier, Producer, in our North Platte office! On Thursday, October 28th, 2021, Jon won the Young Agent of the Year award at the Big I Conference in Lincoln.
The Young Agent of the Year recognizes young agents who show tremendous growth and exceptional leadership in the industry. Jon graduated from IIAN's Elite Force Sales Training program in 2016, where he was also named, Top in Class. He developed and demonstrated his leadership abilities as part of the Legislative Advisory Council and IIAN Foundation Golf Fundraiser Committee, then served three years as the leader of the Western-Central region for IIAN's Nextgen young agents group, and in 2022, Jon will serve as the state Nextgen Chairman! On top of being a super agent for AIA, Jon also co-chaired IIAN's Talent Network task force to help recruit college graduates to the insurance industry–where he received the honor of Committee Chairman of the Year 2020. In addition, Jon has served on the IIAN Foundation Board since 2015 and is currently the 2021-2022 President.
Deb Schilz, AIA Agency Manager stated "The recognition by the IIAN leadership of Jon's accomplishments reflects his professionalism and expertise that our clients have experienced for the past 5 years. We are proud of his accomplishments".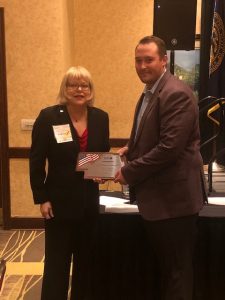 Three cheers to Jon for his amazing achievements!
The Big I's (Independent Insurance Agents of Nebraska) annual conference was held October 27-29, 2021 in Lincoln, NE.