Celebrating 15-Years with Denise Lantis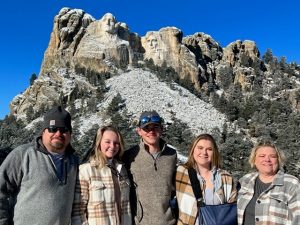 We're celebrating Denise Lantis, Crop Account Manager at our Ogallala office, who is celebrating 15-years at Adams Insurance Advisors! She joined our team in 2007 when she was looking for a job in Sutherland. Denise worked in three of our locations: North Platte, Sutherland, and currently, our Ogallala office. She has worked with various products and has found her home in our Crop Department.
Denise earned her CISR Elite designation in October 2017. To achieve this designation, one must already be a CISR (Certified Insurance Service Representative) and complete additional courses and rigorous testing.
A Nebraska native, Denise was born in Hastings, NE, where she married her husband Randy, then relocated to Phoenix, AZ. In 1997, they returned to Sutherland, NE, where they currently reside. Denise and Randy have two children, Jake and KayLynn, and a new daughter-in-law Malorie.
When not in the office, you can probably find Denise near a body of water. She loves all water activities and camping with her family and friends. She enjoys attending concerts and sporting events as well.
We're so happy to have Denise as part of the AIA family!