Celebrating 10-Years with Rex Santero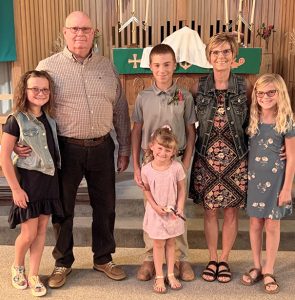 We're celebrating Rex Santero, Agent at our Ogallala office, who is celebrating 10-years at Adams Insurance Advisors! Rex joined our team after needing a change from a sales position at Chief Industries in 2011. He is an agent for our Personal, Commercial, and Farm lines, and In 2017, Rex was named AIA's Agent of the Year.
A Nebraska native, Rex was born in Oshkosh and raised in Lewellen, and currently resides in Ogallala. He is an avid golfer and goose hunter. Rex especially enjoys spending time with his wife, Diana (an Account Manager at our Ogallala office), two daughters, and four grandchildren. Rex is a fixture at the Nebraska State Basketball tournament and has passed his passion to his grandson, Carver.
In the community, Rex is a member of the Elks Lodge and Moose Lodge. He was a member of the Keith County Leadership Group and later served on the board for four years.
We're so happy to have Rex as part of the AIA family and look forward to at least a few more years before he hangs up his Agent hat.